Welcome to MSEE2023
Conference News:
1. [MSEE2013]-[MSEE2022] have been held sucessfully and indexed by EI or ISTP. More information, please visite:http://www.msee2023.com/?op=old
2. 10th Annual MSEE2022 have been published online by IOP Conference Series : Journal of Physics: Conference Series ( IOP-JPCS)
https://iopscience.iop.org/issue/1742-6596/2468/1

3. MSEE2022 have been Indexed by EI compendex One month after publication as MSEE2021.
Introduction



The 11th annual International Conference on Material Science and Environmental Engineering [MSEE2023] will be held on November 24th-26th, 2023 in Nanjing, Jiangsu, China. MSEE2023 will provide an excellent international Academic forum for sharing knowledge and results in theory, methodology and applications of Material Science and Environmental Engineering. The conference looks for significant contributions to all major fields of Material Science and Environmental Engineering in theoretical and Application aspects. The aim of the conference is to provide a platform to the global researchers and practitioners from both academia as well as industry to meet and share cutting-edge development in the field.
No-show Policy: An author or a proxy attending MSEE 2023 must present the articles and posters. This is a requirement for all accepted articles, posters, and invited related submissions to be included in the MSEE 2023 proceeding. No-show of scheduled research abstracts and articles will result in excluding them from the EI database and proceeding.

Double-Blindly Review: Each paper will be double-blindly reviewed by at least two reviewers; this is a requirement as MSEE is a "Refereed Conference". Please adhere to this requirement when you prepare for your paper. Double-blindly means that the author of a paper does not know the reviewers of his/her paper and reviewers do not know the authors of the papers they reviewed.
Publication
Papers accepted by MSEE2023 will be published by IOP Conference Series (https://conferenceseries.iop.org/content/home): Journal of Physics: Conference Series (JPCS http://iopscience.iop.org/journal/1742-6596) Online ISSN: 1742-6596; Print ISSN: 1742-6588 as a proceeding after peer-reviewed(Confirmed).
Indexing Service: Content will be submitted to the indexing companies for possible indexing. Indexing services are independent organizations and the publisher can not guarantee that any particular abstract or index entry will be included in Ei Compendex or any other indexing service.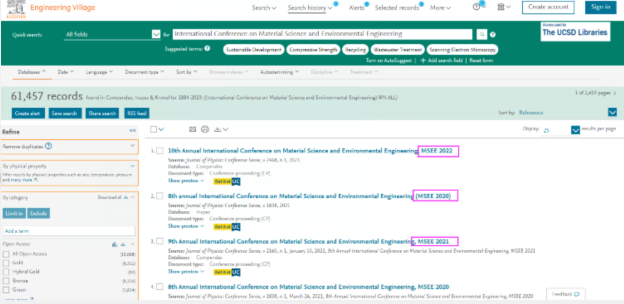 Call For Papers
Topics of interest for submission include, but are not limited to:
Topic 1. Material Science and Advanced Materials
Topic 2. Material Engineering and Application
Topic 3. Environment Protection and Sustainable Development
Topic 4. Environmental Science and Engineering

Submit Ways
(1) Online Submission: http://www.chairin.cn/conferences/msee2023
(2) Email Submission: icmsee@vip.163.com
Download Manuscript Template:

MSEE2023 paper format.docx
Paper Submission
Manuscript Submission
Submission of a manuscript implies: that the work described has not been published before; that it is not under consideration for publication anywhere else; that its publication has been approved by all co-authors, if any, as well as by the responsible authorities – tacitly or explicitly – at the institute where the work has been carried out. The publisher will not be held legally responsible should there be any claims for compensation.

Permissions
Authors wishing to include figures, tables, or text passages that have already been published elsewhere are required to obtain permission from the copyright owner(s) for both the print and online format and to include evidence that such permission has been granted when submitting their papers. Any material received without such evidence will be assumed to originate from the authors.

Online Submission
Please follow the hyperlink "Submit manuscript" and upload all of your manuscript files following the instructions given on the screen.

Source Files
Please ensure you provide all relevant editable source files at every submission and revision. Failing to submit a complete set of editable source files will result in your article not being considered for review. For your manuscript text please always submit in common word processing formats such as .docx or LaTeX.
声明:近年有不少报刊披露抄袭、剽窃、一稿多投等现象,有悖于学者风范。会议郑重声明,如出现这类问题均由作者自行负责。
‍